Europe & Monde = 15,00 €
Europe & Monde + Suivi = €17,00 €
France = 13,50 €
France + Suivi = 15,00 €
Joëlle Léandre : contrebasse, voix
Paul Lovens : drumset, cymbals & gongs


extrait :
_____________________________________
Il est un paysage
d'idées de son, de frappe, d'entité, de stimulation nouvelle des corps et d'une préhension émue de nosentourages, humains, urbains, cubistes peut-être, ou du grand pays sauvage, où, dit-on, la musique faitce qu'elle veut. À moins que l'on ait mal lu et qu'il s'agisse de «la musique sait ce qu'elle veut».Les deux !D'un trait, faire et savoir se conjuguent unanimement. Point d'union — il en est tant — entre les libertésdésirées et la sublime agitation de déviations Off Course !
Il est un passage
perforant le bouclier du temps, dans la fête des mains heureuses qui savent tout attraper, tout fondre,tout assembler, des nuages aux rayons de cristal jusqu'aux interrogations, rencontrant sur la route cellequi a tant à chanter, celui qui a tout à battre. Les deux sont la brèche et laissent entrer le vent caressantpar le frisson des veines pour rejoindre la danse des détours malins qui, dans le sens des regards et descoeurs, mènent au lieu posé de l'obsédante ardeur. Where else ?
Il est un visage
qui, de mémoire, se souvient de sa témérité devant le mur d'un ciel nu, redoublant de coups d'oeil depages d'histoire, coups d'oreille de micros sillonnant à juste titre (un peu fous), pétris d'inventions quisentent l'épaisseur de la terre, la sonnante délivrance des recoins. Tous les deux. Un trajet à bras le corps,qui jamais ne craint les remontées en surface, mais au contraire les embrasse dans l'attention des grandeslignes et des secrets compartiments en mille petites marches de rendez-vous cheminants. Tant de vécu.

Tiens, le jazz ! Aussi là. Rudiments merveilleux. Tant d'aussi là qui n'oscillent, par flagrants détoursou légères échappées inaltérables, que vers l'essentiel.

Jean Rochard


There is a landscape
of sonic ideas, of banging, of entity, of new forms of stimulating the body and of prehension moved byour human, urban, maybe even cubist surroundings, or by the big wild country where, we say, music doeswhat it wants. Unless, we misread and "music knows what it wants." Both! With one stroke, knowing anddoing unanimously converge into one. A point of intersection - there are so many - between the desiredliberties and sublime agitation provoked by the embrasure of paths Off Course!

There is a pathway
perforating the shield of time, in a celebration of happy hands that know how to catch, melt and assembleeverything from clouds of crystal rays to interrogations and, along the way, running into she who hassung so much and he who has everything to build. The two, an opening, making way for wind that caressesby way of shivering veins to join the dance of sneaky detours who, in the sense of gazes and of hearts,leads to haunting ardor.Where else?

There is a face
that, from memory, remembers its temerity against the wall created by a naked sky, reduplicating theglances of histories chapters, ear blows from microphones rightfully criss-crossing (a bit fou), kneadedwith inventions that consider the thickness of the earth and the resonant deliverance of hidden corners.Together. A head-on journey that never shies away from lifts back to the surface, but rather embracesthem, at the attention of large lines and secret compartments scattered amongst a thousand little walksof emerging rendez-vous. So much lived.

There, jazz again! Marvelous rudiments. So many also there which oscillate, by flagrant detours or lightunalterable escapes, only towards the essential.

Translation : Léo Remke-Rochard
Joëlle LÉANDRE / Paul LOVENS
OFF COURSE !
FOU RECORDS (FR-CD-41)

Le dernier album jailli de cette salve de parutions n'est pas à proprement parler une nouveauté bien qu'il ne s'agisse nullement d'une réédition. Nous sommes ici en présence d'un de ces trésors cachés dont Jean-Marc Foussat garde jalousement le secret au fond de ses disques durs avant de nous en livrer, çà et là, quelques perles. Ainsi de cette "Topographie parisienne" enregistrée en 1981, au Dunois, avec Evan Parker, Derek Bailey et Han Bennink, du Willem Breuker Kollektief à Angoulême, en 1980, ou d'Annick Nozati avec Daunik Lazro et Peter Kowald en 2000, aux Instants Chavirés… Toutes pépites insoupçonnées parues chez Fou Records au cours de ces dernières années.
"Off Course !" est un disque rare dans le sens où il nous permet d'entendre un concert inédit organisé par Marc Fèvre en 2013 aux Temps du Corps, mais surtout parce qu'il réunit deux artistes familiers l'un de l'autre qui n'avaient jamais eu, à ma connaissance, l'occasion d'enregistrer en duo. La contrebassiste Joëlle Léandre et le batteur Paul Lovens se saisissent de l'occasion avec la gourmandise teintée de malice de deux galopins cédant à la tentation de l'école buissonnière. Un peu comme s'ils venaient de planter le Sudo Quartet, une formation déjà fort libertaire dont ils tiennent la section rythmique auprès de Carlos Zingaro et du tromboniste Sebi Tramontana, pour s'offrir un peu d'intimité au gré d'une tournée ! Le terme de section rythmique est d'ailleurs impropre à définir le lien qui unit les deux improvisateurs puisqu'ils ont transgressé l'idée même de rythme. Il suffit d'écouter Paul Lovens pendant quelques secondes pour comprendre que les notions de tempo et de pulsation sont aussi indissociables de sa personne que les battements de son cœur ou sa propre respiration. Prenez un verre avec ce type et vous vous surprendrez à taper du pied en toute inconscience ! Les cymbales claquent comme elles tombent, les baguettes picorent les peaux, les toms explosent sous la charge du corps engagé dans toute sa puissance, le dynamisme ne le dispute même plus à la délicatesse tant ces deux manières semblent les voies jumelles d'une même vision. Emportée à loisir dans ce mouvement dont elle a sans doute initié le principe, la contrebassiste dévale des pentes ondoyantes, se dirige entre creux et bosses à la force de l'archet et plonge au creux des gouffres pour mieux viser les crètes d'une tessiture à ce point maîtrisée qu'elle semble en avoir défini les extrémités. Les cordes sont empoignées comme un faisceau de branches que l'on froisse au-dessus du vide avant d'en allumer le feu nécessaire à toute cérémonie et la voix sourd du fond des tripes, détruit le sens pour la beauté d'un langage sacrifié au son. L'inhumaine complexité de ces échanges exprime de leur corps les humeurs enivrantes d'une passion fusionnelle. Entraînés à leur suite dans la chute libre de leurs gestes, nous nous précipitons vers les tréfonds de l'abîme et tentons malgré tout de saisir quelques bribes de cette musique dont la dangerosité fixe les limites au-delà de la raison.
Les deux artistes s'amusent ainsi à créer des pièges pour mieux les déjouer et cette notion de rire lancé à la face du danger résume assez bien leur pratique. Quand l'ennui guette dès la première manifestation de confort, le jeu adopté pour mieux l'enrayer comporte des risques dont le défi devient aussitôt garant de cette vitalité sans laquelle notre émerveillement ne pourrait advenir.
Joël Pagier
Revue & Corrigée n° 134 décembre 22
_________________________________
JOÊLLE LÉANDRE & PAUL LOVENS . Off Course !
Fou Records / distr. Les Allumés du Jazz
Joëlle Léandre : contrebasse, voix
Paul Lovens : batterie, cymbales et gongs
Remontons le temps, nous voici en mai 2013, avec une rencontre en public entre l'infatigable improvisatrice et duettiste, Joëlle Léandre et le percussionniste "historique" Paul Lovens. Une improvisation de près d'une demi-heure constitue l'essentiel du disque. Ce qui aurait pu tourner vers une sorte d'affrontement amical révèle au contraire une entente subtile et une construction à laquelle le percussionniste n'est pas pour rien, ponctuant, colorant, s'infiltrant et provoquant astucieusement le jeu de la contrebassiste, plus réservée que d'habitude. Mais Joëlle laisse éclater sa personnalité : après une sorte de danse à l'archet, les échanges sont plus vifs, les discours s'entremêlent, facilement sans être chargés, Lovens ne tirant jamais la couverture à lui... On pourrait d'autant plus facilement décrire ce parcours commun qu'il est aisé à suivre du début à la fin. Un court rappel reste dans cette même tonalité plus réfléchie qu'extériorisée. Excellente idée d'avoir publié ce concert.

Jean Buzelin
_________________________________
Het betreft een live opname uit 2013 die nu pas uitgebracht werd. Op de eerste track ('Off Course!', achtentwintig minuten) dwaalt Joëlle Léandre continu met haar strijkstok langs de snaren van haar contrabas. Drummer Paul Lovens (Alexander von Schlippenbach, Peter Brötzmann) blijft ondertussen druk in de weer met drumset, cymbalen en gongs waardoor klanken uit niet-westerse werelden binnensluipen in deze bijzondere cocon.
We horen tevens enkele flarden boventoonzang (of wat hier op gelijkt) en verwrongen operalyriek. Soms lijkt het of beiden apart gaan improviseren maar niets is minder waar. Ze laten elkaars creatieve uitingen telkens naadloos samensmelten en respecteren op die manier hun wederzijdse vrijheid zonder de eigen onafhankelijkheid te verloochenen. Ze versnellen en vertragen daarbij op hetzelfde moment als dansers volgens een choreografie van Anne Teresa De Keersmaeker. Het zes minuten durende bisnummer ('…where else?') is net iets experimenteler.

Jazz halo
Il s'agit d'un enregistrement live de 2013 qui n'a été publié que maintenant. Sur le premier morceau ("Off Course !", vingt-huit minutes), Joëlle Léandre promène continuellement son archet le long des cordes de sa contrebasse. Pendant ce temps, le batteur Paul Lovens (Alexander von Schlippenbach, Peter Brötzmann) s'affaire à la batterie, aux cymbales et aux gongs, permettant aux sons des mondes non occidentaux de se glisser dans ce cocon particulier.
Nous entendons également quelques bribes de chant harmonique (ou ce qui y ressemble) et des paroles d'opéra tordues. Parfois, on a l'impression que les deux vont improviser séparément, mais rien n'est moins vrai. Ils fusionnent à chaque fois les expressions créatives de l'autre, respectant ainsi leur liberté mutuelle sans renier leur propre indépendance. Ils accélèrent et ralentissent en même temps comme des danseurs selon une chorégraphie d'Anne Teresa De Keersmaeker. Le bisong de six minutes ('...where else?') est légèrement plus expérimental.
Jazz halo (trad DeepL)
_________________________________


Joëlle Léandre & Paul Lovens - Off Course! (Fou Records, 2022)
Joëlle Léandre & Núria Andorrà - BLA BLA BLA duo (Sluchaj, 2022)
Bassist and sometimes vocalist Joëlle Léandre is a force of art and/or nature, clearly a force of art when bringing her acute ears and technique to the music of John Cage or Giacinto Scelsi, playing duets with Anthony Braxton, Derek Bailey and Lauren Newton (to name just a few of the congenial many) or contributing to madly subtle electro-acoustic projects with George Lewis and/ or Pauline Oliveiros and a few others. A force of nature? Listen to the solo bass and voice of At Souillac en Jazz (Ayler Records), a performance in an ancient church in the South of France in which Léandre summons up a roomful of spirits, pulling, pushing and dragging them forward through her bass and voice.
Meanwhile, everything from humour to hallucination can turn up in these duos with two fine percussionists, recorded almost a decade apart.
Off Course! presents a concert from 2013 recorded at Les Temps du Corps in Paris by Léandre and a particularly witty pioneers of European free improvisation, percussionist Paul Lovens, here playing a drum set, cymbals and gongs. The CD consists of two pieces, the 28-minute title track and the six- minute "… where else?" "Off Course!", of course, seems to suggest an itinerary, but, of course, one lost or abandoned. While any initial plan might be assigned any of its individual moments, others might suggest serious psychic wandering. In one rich interlude, particularly scenic, mystical and evocative, there, in a Lhasa temple of the imagination, Léandre's bass is rumbling low-pitched blasts that might come from a three-meter trumpet resting on a stone floor while she sings in a keening, nasal, circular-breathing voice and Lovens organizes the ritual with assorted gongs and piercing cymbal strikes placed for optimum ordering of stages in a ceremony. Move, possibly, to Tuva, and Léandre has moved the voice to croaking throat singing with an oddly nasal/ metallic bass range. Assorted other spaces will appear as out of nowhere as well, all of it appropriate, all of it mad and all of it placed ideally on the estimable Jean-Marc Foussat's label Fou .
There's a certain touristic, even witty feel to the time Léandre and Lovens spend on an imaginary temple journey, but there's serious exploration going on in the lower frequencies of Léandre's double bass and the instruments of the young, Barcelona-based percussionist, Núria Andorrà, who works with a horizontal bass drum placed on the floor, approaching it with various techniques and materials and complementing it with assorted metallic percussion. There are 12 episodes here, ranging from less than two minutes to almost seven, but it feels like almost continuous music moving through low frequencies to explore both literal and figurative depths. In "BLA BLA 1", a certain rolling movement from the drum's sound combines with the harsh, low frequency bowed bass to suggest that there's a single instrument here, but it's closer than that: it's often a singular conception. The dense, high frequency bowed harmonics of "BLA BLA 4" feel like stalactites suspended from the ceiling of a cave. "BLA BLA 5" is similarly mysterious with its intense, bending, pizzicato middle-register tones, resonating with a large, sometimes-scraped gong. The shifting tones and moods arrive at a kind of reverie on "BLA BLA 8" with the bassist's gently plucked lower middle register matched to shimmering metallic sounds.
These two CDs may reflect similar instrumental palettes, but each is a distinct journey into its own sonic landscape, well worth following.

By Stuart Broomer
_________________________________

March 29, 2023
Joëlle Léandre & Paul Lovens
Off Course!
Fou Records FR-CD 41
Joëlle Léandre & Núria Andorrà
BLA duo
Fundacja Sluchaj FSR 13/2021
Doyenne of creative bass playing, Paris-based Joëlle Léandre once said she likes to improvise with old associates and also prefers to work with new associates. The maxim is proven on these duo sessions, which also prove that with in-the-moment improvisation, integration can occur in any circumstances. Recorded in 2013, Off Course features one elongated improvisation and a brief coda by Léandre and German drummer Paul Lovens. Lovens, who is a member of the Schlippenbach Trio and other groups, first recorded with the bassist in 1984. From 2021, BLA BLA BLA is a premiere meeting between the French double bassist and the younger Catalan percussionist Núria Andorrà, who has been part of interdisciplinary performances with dancers and musicians.
Experienced enough to appreciate a bass drum's capability, Lovens frequently rumbles and vibrates its centre to meet up with Léandre's deepening plucks and vibrations from her instrument's basement-pitched strings. Alternately he turns to gongs, cymbals and other parts of his kit to rhythmically challenge or modify her torqued string twangs and deepening sul ponticello slices. His strategies encompass lug tightening and loosening, mallet echoes on unyielding surfaces and creating a darbuka-like tone with bolo-bat-like reverb. At the one-third point, Léandre segues into another aleatoric diversion as she begins wicked witch-like vocal croaking, while amplifying her prestissimo strokes to move the exposition upwards. Meanwhile Lovens claps his cymbals and beats his snare to sound out a regularizing march tempo that preserve middle tones. As the pressurized sequence is stretched still further, it's a combination of Lovens' percussion paradiddles, rubber-band-like plucks from Léandre's strings and her bel canto warbling that simultaneously thrust the narrative forward as well as consistently interrupt the horizontal function for greater sonic variety. Thick string stops and measured drum thumps signal the finale, with the coda an abridged variant of the previous improvisation.
Divided into a dozen tranches rather than a single evolution, the BLA BLA BLA duo also differs from the other in that Andorrà prefers to emphasize lighter idiophone tones unlike Lovens' full kit elaborations. This is made clearest on "BLA BLA 6" where her bell-chiming, ping-pong-like cracks and whistling vibraphone-like plinks are a perfect counterpoint to Léandre's stretched arco expression and bitten off vocal yelps and nonsense syllable yells. From the top it appears as if the bassist will be bringing the percussive underpinning to the pieces as the percussionist colors them with strident cymbal pulls, drum top shakes and sandpaper-like scratches. By the second part of the concert however, an harmonized détente between the two styles of improvisation has been reached. With tracks such as "BLA BLA 8" and "BLA BLA 9" moving at a leisurely pace, the logic of melding fine glass-like plinks, chiming bells and what sounds like an old-fashioned telephone buzz with wood-rending-like string tugs and measured sul ponticello rubs becomes clear. Before reaching a climax with "BLA BLA 12", the final and longest track, intermittent patterns encompassing gamelan-like gongs and bell-tree shrills from Andorrà, and subterranean pumps and thumps from Léandre become more prominent. Straight line string judders and squeaks, clock-chiming patterns and – to preserve the inventive discordance – some nonsense syllable yodeling from the bassist, reach a logical ending point and buzz away in unison. Different as they may be, each session confirms Léandre's adaptability in many situations.
Ken Waxman
_________________________________
---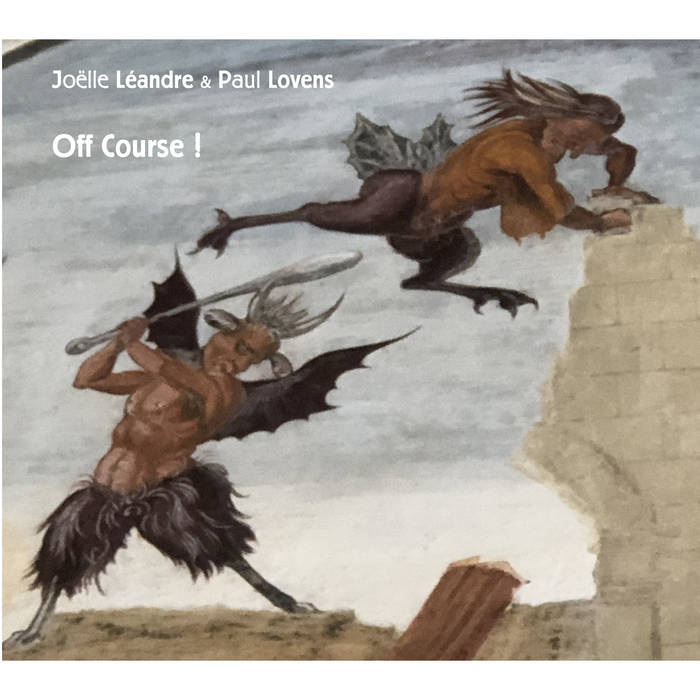 Of Course !
Joëlle Léandre : b-v / Paul Lovens : dr-perc
Fou Records / Les Allumés du Jazz
Date de sortie : 09/12/2022
Assez rares les duos contrebasse-tambours n'en sont que plus précieux. Soit deux instruments à fort potentiel rythmique à dérythimiser. Et ça, Joëlle Léandre et Paul Lovens, ils savent le faire.
Ils savent ajuster-accorder les sons : grosse caisse au grave sidérant, archet allongé et fouettant les cordes sans ménagement, rebonds des baguettes sur la peau, saccades sans préavis.
Même si les deux improvisateurs se connaissent bien, il y aura un round d'observation : petits réglages pour trouver la juste position, le juste élan, le juste mouvement. Contrebassiste et percussionniste s'unissent : les bibelots soniques s'entrechoquent, féerie de frappes légères et précises aux effets lents et immédiats face à un gisement mélodique spontané. Et ainsi, au fil des minutes, ils vont argumenter leur dialogue, trouver de nouveaux axes, de nouvelles échappées. Ainsi était cette soirée parisienne du 26 mai 2013.
Luc BOUQUET
_________________________________

Thanks to the immense archive of sound engineer-label owner (and vintage synth explorer) Jean-Marc Foussat, we have Off Course!, the meeting of Léandre with a long-time comrade, German master drummer Paul Lovens, recorded live at Les Temps du Corps in Paris in May 2013. At first and on the 28-minute title track, this meeting sounds as if Léandre and Lovens attempt to throw each other off track with their spontaneous stream of sonic ideas, but when Léandre began her operatic, wordless vocalizations she finds in Lovens a true partner to her passionate-provocative pathos fueled by desired liberties and sublime agitation. The shorter «…where else?» channels the dramatic interplay into a more playful one, and Léandre even enjoys adding subtle walking bass lines to Lovens' rhythmic patterns until she decides to propel this gentle dance into a deeper and more subversive one all the way until its surprising silent coda.
Eyal Hareuveni
_________________________________